"Thanks so very much for being such a great and patient instructor. I took my driving test and passed on my first attempt. I had only one point. I was very excited. The first place I took it to (the car) was the movies... thank you very much for everything. Lu...
VIEW ALL TESTIMONIALS
Muskego Classroom Instruction + Behind the Wheel Training in Waukesha, Walworth and Racine Counties
Wisconsin Driver's Education
Price: $475
Get your temps and your license with expert preparation from Door to Door Driving School. You'll receive a number of practice "temps tests" covering topics like road sign identification or multiple choice knowledge questions. This course covers your 30 hour Wisconsin Department of Transportation classroom requirement over the course of 15 two hour sessions. Your driver's ed training will be fun and engaging, featuring indoor and outdoor activities like experiencing the inside of an actual semi-truck with a 53 foot trailer. You'll sit in the driver's seat and learn about blind spots, keeping you safer and making you feel more confident near semis on the roadways.
Three guest speakers will share their "on the road" experiences and knowledge with the student driver:
A special agent with the Union Pacific Railroad
A professional semi truck driver, a member of the "Wisconsin Road Team," who's logged millions of miles incident-free
A police officer from the Mukwonago Police Department
Do you know there is at least one train/vehicle/pedestrian collision a month in southeastern Wisconsin?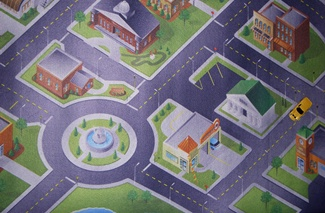 Do you know railroad crossings are considered an intersection? Do you know the speed a train is moving is deceiving because the shape of the train does not change as it approaches a crossing? Are you aware of how much a trucker can see from their rig, and more importantly, how much they can't see? How has the driving task evolved into multi-tasking when you are driving? Do you know why truckers need to have all drivers stop prior to the stop line? What is the process an officer will follow when suspicious of a driver under the influence? Who is allowed to ride in the back of a pickup truck? What light colors are allowed on a vehicle? You'll learn all this and more both behind the wheel and in our coursework, drawn from the Wisconsin Motorist's Handbook and our textbook Drive Right.
Find out about getting picked up for your Wisconsin behind the wheel training using our online driver's ed contact form.
Outline of your Behind the Wheel Driving Experience
Parents and students alike love the convenience offered by Door to Door Driving school. From home, from school or from work, your Door To Door Driving Instructor will pick you up for each drive! You'll receive useful feedback every session, helping you on your path to becoming a licensed, safe, and courteous driver.
There are 6 2-hour shared drive sessions for the student driver. Drive partner/s can be chosen or matched up with thought put into compatibility. The first driver will be picked up and begins the drive lesson en route to the home of their driving partner. Each student receives driving time and meaningful, required observation time. The observing student will stay engaged, learning about pavement markings, interacting with other drivers, the impact of weather and many other facets of the day's lesson.
Drive Session One: Rural and Residential Roadways
Your first driving session will cover driving on rural roads, learning about characteristics of these roadways, experiencing how to properly drive on hills and curves, approach and drive through an intersection, make right turns and left turns — the driving basics! The second piece of this session is learning the characteristics of residential roadways. Your "practice driving" with dad or mom should start covering these drive skills. Drive session one covers:
Exterior and interior check of vehicle
Teach vehicle controls/safety equipment
Roadside stop
Uphill and downhill parking with curbs
Uphill and downhill parking without curbs
Characteristics of rural and residential roads
Positives and hazards or rural and residential roads
Drive Session Two: Expressway Driving and Turnabouts
This session focuses primarily on expressway skills, including merging, exiting, lane changes. You'll gain an understanding of the characteristics of expressways— learning why these roadways are the simplest to drive on! Other maneuvers like Y-Turns and backing into a driveway are also taught. Drive session two covers:
Merging
Exiting
Lane changing
Y-Turn
Backing into a driveway
Characteristics of expressways
Positives and hazards or expressway roads
Drive Session Three: Parking
Parallel parking is surprisingly simple — You'll learn cues that will even help mom and dad brush up on this oft-dreaded task. Your driver training will also cover perpendicular parking and a number of other skills. Drive session three covers:
Angle parking on the left and right
Perpendicular parking on the left and right
Parallel parking
Leaving a parking space
Tips for safe driving in a parking lot
Drive Session Four: Roundabouts and Final Turnabouts
As roundabouts become more and more prevalent, it's important to learn to navigate them safely and efficiently. This session focuses on roundabouts along with other maneuvers including U-Turns and backing out of driveways. Drive session four covers:
Single and double lane roundabouts
U turns
Backing out of a driveway on the left side of the street
Backing out of a driveway on the right side of the street
Backing up along the curb
Drive Session Five: One Way Streets and Left Turns at Traffic Light without a Left Turn Arrow
Downtown Waukesha is our destination today. This drive presents a more complicated downtown experience and an opportunity to drive on numerous one-way streets. Drive session five covers:
Recognizing a one way street
What to do when you are at the end of a one way street
Turning left
Turning right
Driving Straight
What to do if a wrong way driver is coming at you
Left turn at a traffic light lacking a left turn arrow
Drive Session Six: Practice Road Test.
Your practice road test will be as close as possible to your coming experience with the DMV road examiner. Just like the real thing, your test will take about 15-20 minutes and utilize the actual DMV score sheet. The remaining drive time will be used to polish drive skills that were less than perfect on the day's practice road test. Drive session six covers:
Demonstration of safety equipment in the DMV parking lot
Safely and knowledgably interacting with traffic and other roadway users
Practicing other driving maneuvers